Best Makeup Trends: Fall 2018
Fall 2018 Hottest Runway Looks & How To Get Them With These Cruelty-Free Makeup Picks
Some of these looks can admittedly seem intimidating at first with their bold, statement colors and looks but it's surprising how flattering these modern makeup looks can be when you find the right shades for you. Sparkle, bold colors and looks dominated the runways as makeup artists drew inspiration from the women's empowerment movement.
Here's your Top 5 looks to recreate Fall 2018's trends in a more wearable way. All of the product picks are cruelty-free, all-natural, and will have you looking perfect for Fall with a quick slick of the trending lip color or liner. Don't feel that just because something is on trend you have to embrace it. Pick the trends, colors, and looks that make you feel your most beautiful and confident and leave the rest on the catwalks. The beauty of makeup is there's something for everyone! Especially when it's custom cosmetics, so that you have something created specifically for you, not just something you've copied from a passing trend.
Fall 2018 Top 5 Beauty Trends
1. The Cat Eye
The least intimidating look to try. The winged eyeliner as seen at Marc Jacobs is still a classic and flattering eye opening look on everyone. Use Tarte Clay Pot Waterproof Eyeliner with an angled brush for a clean line that's easy to apply and will last all day. I love a waterproof eyeliner year round; in Fall & Winter so it stays put even if you're caught in the rain and during the hotter months so it doesn't smudge or transfer.
The cat eye is all about a clean lean line, not one that's started to migrate to your crease! Tarte's creamy-gel formula made with Amazonian clay & mineral pigments for long-wearing definition even survived the Vegas Summer and makes creating a crisp line easy.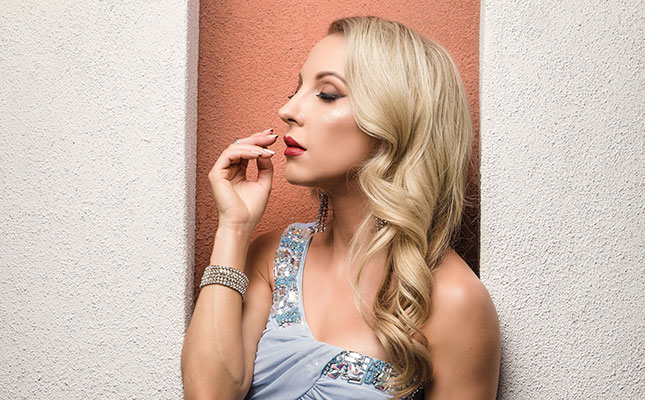 2. The Orange Lip
Save your reds for Winter and warm up to the power of orange and rust tones this Fall as seen on all of the Model Squad. Bullet lipsticks are back as glosses take more of a back seat. A simple slick of black eyeliner and an orange lip makes for a modern, cozy look as seen at Chromat or for a more glam look, wear with shimmery gold shades of eyeshadow to contrast with the matte lip as seen at Jill Stuart.
Why are orange lipsticks so universally flattering? Unlike lipsticks with a cooler blue undertone, orange lipstick makes your skin glow as it falls near the warm end of the color spectrum.
"You can't keep changing men, so you settle for changing your lipstick". Heather Locklear
3. Berry Shades
This is easier to wear on the lips rather than the eye and brightens up your Fall look. Make it romantic and youthful with a sweep of highlighter. With so many shades to choose from that fall under the berry spectrum, there's something for everyone whether it's on the pink, mauve, or red side. Custom everything is coming to the forefront from clothes to hair products to makeup; why try to make something work for you when you can have it made just for you bearing all of your needs in mind. Opt for a custom lipstick or gloss to find a shade that's right for you.
Dawes Custom Cosmetics Virtual Custom Lipstick Creation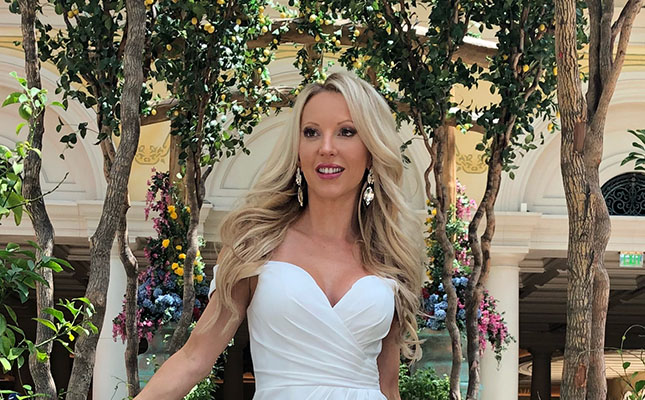 Dress Faviana Style 8050 (I also have it in burgundy & blue as I'm obsesses with this off-the-shoulder style).
4. Glitter
THE trend of the season. Wear it on your eyes or if you're feeling extra wear it all over your face, although you may want to tone it down some from the looks we saw at Giambattista Valli and go more along the lines of Oscar de la Renta.
5. Metallics
If glitters a little too full on for you, opt for metallics for a more wearable, upscale look. Metallic makeup in all shades can be worn either by subtly by swiping a clear lip gloss with a holographic shimmer over your favorite lipstick, or with a frosted or glittery lipstick, or with a highly pigmented metallic eyeshadow. We love the golden bronze shade of 'Under The Sun' loose, talc-free, long wear mineral eyeshadow to nail the golden beauty looks we're seeing for Fall 2018. This highly pigmented, rich, multidimensional shadow is silky smooth and crease-free.
Dawes Custom Cosmetics 'Under The Sun' Talc-Free Mineral Eyeshadow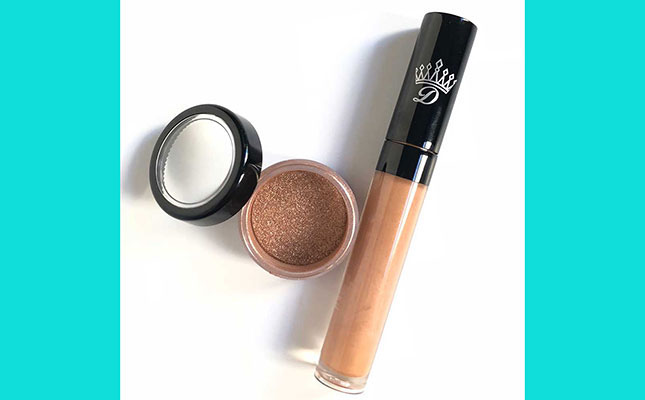 Which Fall 2018 runway beauty trends are your favorites? It can be so easy to fall into makeup and beauty ruts, seasonal changes definitely help to shake it up. Sometimes it doesn't even mean buying more products but just changing the way you apply it such as with the winged black eyeliner. If a trend such as the bold orange lipstick is too much or too little for you, create your own more muted or bolder shade. Dawes custom cosmetics was created to give you the power to make the choice yours. Check out more Fall looks here:
Dawes Custom Cosmetics Instagram

Dress in Hero image: Faviana 8083
Photographer: Mario Ramirez
MUA: Jessica Angelina, Gossamer Beauty