Winter Skin Care Tips to Keep Your Skin Hydrated and Glowing
Everything you need to know for your Winter skin care.
Must have ingredients, masks to do now, and product recommendations with Foreo Leading Skincare Expert Lauren Kruger.

I sat down with Lauren Kruger from Foreo to talk about the best way to take care of your skin during winter. She shares her winter skin care tips on this episode of the Glamour and Gains podcast and how your winter skincare routine is different to the rest of the year.
Unless you're amazingly blessed with problem free skin, winter skin problems like red, sensitive, dry winter skin affect most of us. For the best ways to keep your skin hydrated (not oily) read what Lauren had to say about winter skincare.
What are some of the things we can do to change up our skin care routine in the Winter?
A colder climate tends to mean a drier climate which can really exacerbate dryness in your skin and sensitivity. Keep cleansing morning and night but with a rich hydrating cleanser to keep skin clean and free of pollution, oil, and product.
What are the best Winter skincare products that you recommend using throughout Winter?
Keep your exfoliating routing going in the winter. Which again can sound counterintuitive as you don't want to over dry your skin or create any more sensitivity. However, if you're using the proper type of exfoliation and the proper frequency you will still get the benefits of the exfoliation without the sensitivity or any negative downsides. In the winter time you might want to take down your exfoliation from three to four times a week to maybe two or three times in the winter. It's still important to remove those dead skin cells from the surface layer of your skin so that your skincare products can penetrate deeper into your skin so you actually get the benefit of them.
There's two types of exfoliating, one with acids or enzymes and then manual exfoliation with things that feel more scrubbing. Both are great and both have a place in your routine, you just have to find the balance that works for you. Chemical exfoliation or enzymes tend to be great for everybody whereas manual can be hit or miss on certain skin types, especially if they're more acne prone or they have active breakouts as you can spread the bacteria and create more breakouts. In which case, stick to chemical exfoliation over manual.
Are there any ingredients you would say to look for in an SPF and do you think the higher the better?
There's so much variety when it comes to SPF as far as ingredients in the different SPF levels. I tend to stick to a titanium dioxide or a zinc oxide or a combination of the two as those are the more natural versions of SPF you'll find. As far as like Octinoxate or different chemical SPF, there is controversy in the industry as to what's safe.
There's physical SPF and chemical SPF's. A Physical SPF creates a barrier on top of your skin that deflects the sun rays from your skin (basically a barrier shield on top of your face). A chemical SPF soaks into your skin and actually diffuses the rays within your skin, so when you have Melasma or if you suffer from any pigmentation problems, physical SPF is a good choice.
As far as the SPF rating goes, you want to have at least an SPF 30 and up to SPF 50. Once you get to SPF 75, you're not getting any more benefit from those than you are from a SPF 50 or a 30. A SPF 50 really is the highest that I would say is actually more beneficial.
Eve: I use Coola SPF (the Pina Colada scented one is my favorite and smells like a tropical beach in a bottle). I've talked about it and reviewed it on Glamour and Gains by Eve. I like it because the ingredients are about as pure as you're going get. One of their slogans is "Farm to face", so I feel like I can trust their ingredients. I hate worrying about putting toxins on my face or body.
I know it can be hard to keep the SPF topped up throughout the day, either because we don't want to mess up our makeup or we just forget but it's so important to. I've been using SPF setting sprays to keep my SPF topped up throughout the day. I got into the habit in Italy this Summer as we spent so much time wandering around exploring cities in the sun. I used COOLA's SPF30 makeup setting spray to spray over my makeup which made it last longer and didn't make me look shiny.
WHAT ARE THE BEST INGREDIENTS FOR WINTER SKIN CARE THAT WE CAN LOOK FOR TO HELP US DURING THE WINTER?
During the winter, along with your regular routine, you should try and incorporate certain treatments into your at home skincare routine. One of those being a hyaluronic acid serum. Use it everyday to add hydration to your skin but one thing to remember with this is to always use it with a moisturizer because if you just use hyaluronic acid, it'll actually have the opposite effect and dehydrate your skin because the water can be pulled out of your skin into the environment if you don't have that barrier of a moisturizer on top.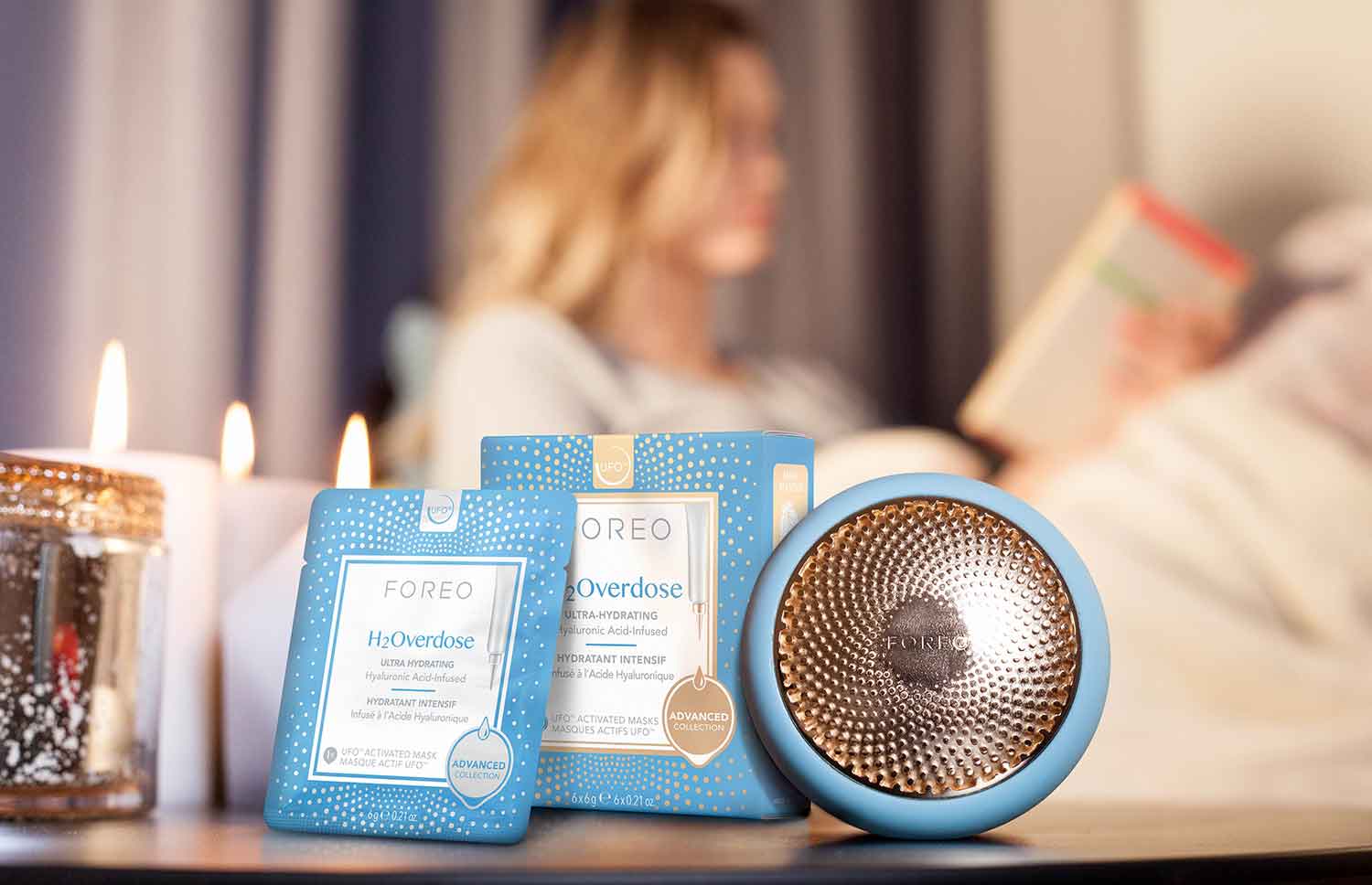 Best Facials for the Winter:
Make sure that you're using a good hydrating mask during the winter. Foreo has what we call our UFO smart masking device which takes your 20 minute sheet mask treatment and puts it into just 90 seconds. It uses LED light therapy, heating, cooling, and see T-Sonic pulsations to hyper infuse these ingredients into your skin. Foreo has a mask that has hyaluronic acid in it called H2Overdose (Sephora $19.99 for 6). You leave the mask on overnight and you get such great hydration the next morning.

A spa facial is great but if you don't have the time or cash this is a great solution.
It's also a great time for peels, microdermabrasion, and HydraFacials as there's less sunlight and we're outside less during the day. It's very skin specific so I'd recommend going to your regular esthetician as well as bumping up your routine at this time and doing a little more in-depth treatments.
Ways to take care of your skin in Winter:
Exfoliate.

Use deep moisturizing masks to help take care of dry skin in winter.

Use a serum with hyaluronic acid in conjunction with a daily moisturizer.

Don't forget to wear SPF.

You can also invest in a Humidifier which also helps reduce fly away/static hair

Remember to hydrate your skin (by drinking plenty of water, using hyaluronic acid and moisturizer).

These tips for healthy skin are great not just in Winter but year round to combat dehydrated skin.
You can shop at foreo.com and select retailers such as Sephora, Nordstrom, and ULTA.
Foreo Instagram
Lauren Kruger, National account manager at Foreo North America, Licensed esthetician, and skin care specialist
Best Winter Skincare Products
Shop The Post
Have you done all of your Christmas shopping yet? I'm almost done. Check out the holiday gift guides (I created separate ones for cruelty-free beauty, fitness, tech to make the perfect gift easier to find).
Want more skincare advice?
If you missed last weeks episode on how to prep your skin for holiday makeup check it out to help keep your skin clear this holiday season
Happy Holidays
Eve xo