What the Emmy Nominees are Being Gifted 2019
Hollywood Swag Bag Nominee and Talent Red Carpet Gift Bag
Companies plan for the Emmy's months in advance, from stylists and beauty teams planning the celebrity looks, to PA's planning their itineraries, and Hollywood Swag Bag curating their gift bags.
Since Dawes Custom Cosmetics is part of this gift bag, we got a sneak peak into what's in the Hollywood Swag Bag Honoring the 2019 Emmy Weekend that the nominees will receive at their luxury hotel. This carefully curated gift bag contains luxurious, eco-friendly, natural beauty, health, lifestyle and fashion brands some you're familiar with and some that are the rising stars to watch out for and the hottest new things to hit the scene.
DawesCustom Cosmetics is honored to be included and featured in the Emmy gift bags and can't wait to create custom lipsticks or customize their own lip gloss for the talented stars with our unique experience.
What's in the Hollywood Swag Bag honoring the Emmy Weekend:
Miracle Lip Plumper, lipstick and Custom Lipstick Experience
We're so excited to have Dawes Custom Cosmetics included in the Emmy Gift Bag as our luxury custom cosmetics provide everyone with the VIP treatment. It's all about you! Natural and cruelty-free custom cosmetics created uniquely for you. Not just another lipstick company but an exciting, interactive experience where you become part of the cosmetic creation process via FaceTime with our Master Color Artists wherever you are in the World to create your bespoke lipstick or lip gloss with your choice of scent, flavor, and name.
The Beauty Architect', Christian Iles created his own Luxury Hair Care Collection that contains just 3 products! The beautiful black and gold bottles make your bathroom and hair Insta-worthy and glam. Made from cruelty-free, all-natural ingredients, we're lusting over these majestic bottles! The Emmy nominees hair gets a beating through filming and awards seasons so need the best products to give their tresses the TLC they need.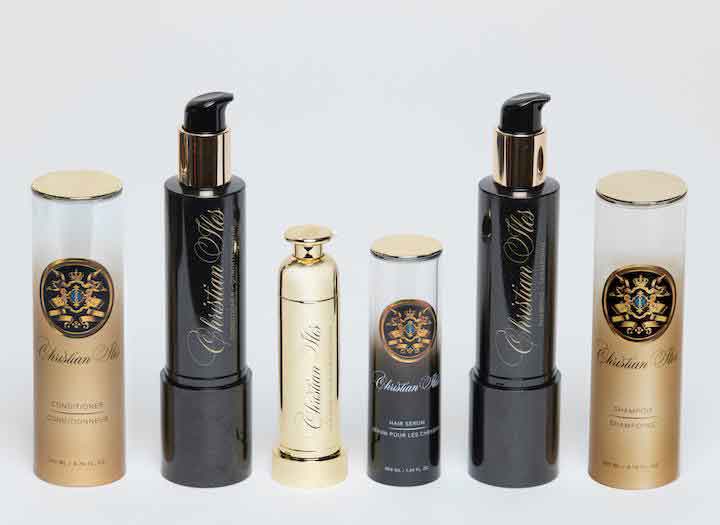 This International Lifestyle Management Agency takes care of everything. Bespoke services and staff includes concierge services, travel coordination (private jet and yacht charter), private islands, personal security, acquisitions, private staff, estate managers, private chefs, stylists and more to keep their clients life's organized, glamourous, and safe in the most luxurious ways.
Super fun and whimsical, their sparkly champagne bra is my favorite piece in their eclectic collection. There's a time for practical underwear and a time to have fun and express your personality. This lingerie will bring some extra sparkle and fun to your lingerie drawer.
More skincare because you can never have too much, especially after your skins been caked in makeup and hair in product. As glam as it makes you feel, there's also great satisfaction in getting it all off and being clean, moisturized and fresh. My Love Botanicals small batch products are 100% pure and simple cruelty-free.
Rather than reaching for the candy and nuts in the mini bar or waiting on room service, these come in handy for a quick and healthy snack. High in protein (14 g), low in carbs (2g), fat (3g), sugar (1g) and calories (90 cals), gluten free, peanut free, tree nut free, soy free and egg free diet as well as being free from corn syrup, artificial flavors, colors and preservatives for a guilt free snack washed down with...
When the champagne stops and it's time to snuggle in your luxury suite in a plush robe with a cup of tea. Exquisite, carefully selected ingredients made in small batches and protected in an opaque glass jar to retain its freshness and integrity on the journey to your cup.
Hydrate, hydrate, and then hydrate some more. The ultimate secret to glowing youthful skin is water! Everyone's minimizing their plastic consumption and this eco-conscious water company has ditched the plastic and sourced the purest local water using a 7 step reverse osmosis filtration process for a water with the ideal pH balance. Plus they encourage reusing your bottle.
By Danielle Aitkin
Inspiring and heartfelt. A compelling insight into human potential and a person's capacity to turn their life around finding hope, meaning and inspiration where none previously existed.
by Joanne Fluke
You had me at Chocolate Pie! When celebs want to take a break from phones and computers and escape, it's hard to beat a good read. This thriller sees the hero swapping the crime scene in her condo for her mother penthouse, where she and an old flame team up to solve a case that's messier than an upended chocolate cream pie.
Anything that comes with an Adults only warning is bound to be fun! The idea is to create the funniest memes by using one of your dealt caption cards to caption the photo card in each round. The winner of each round is decided by a rotating judge. This sounds like a game to played with equally fun friends.
For those last minute hotel workouts or pilates class when you need extra grip. Tucketts eco-friendly open toe grip socks are perfect for this.
I always have snacks in my bag, you never know how long meetings and events are going to run, or where you're going to be able to grab a quick healthy snack. Seasnax premium roasted seaweed snacks are made from all natural ingredients and are gluten free, with zero trans fat, cholesterol, MSG or Sugar.
Leslee Bender, creator of the Bender Ball has been creating fitness programs for over 30 years including "I Am Ageless Now". The Bender Ball is small enough to take with you to get on-the-go workouts done and the gift bag also comes with exercises using the ball that strengthen the core and protect the back.
The 1st time at a yoga class can evoke those "WTF?" moments. How the hell am I supposed to bend like that or do that or survive the heat?". In her book she explains the simple do's and don'ts and insights into what is physically, mentally and emotionally happening to your body throughout a yoga practice with a no-nonsense approach and quick wit.
Another American business! Based in Colorado these premium hydration bottles maintain the optimal temperature of beverages while reducing dependence on single-use plastics. They also have a removable ice, fruit, tea strainer making it a great multi-purpose bottle.
A brand new hip, designer, urban streetwear that includes a ready-to-wear collection for men and women as well as unisex accessories.
The charity of choice in the 2019 Four Seasons Gift Bag honoring Emmy Weekend. They're dedicated to providing critically needed funds and support to over 20 no-kill animal shelters and animal rescues, across the country, that help to fight for the rights and fair treatment of those with no voice. Hollywood Swag Bag will be auctioning off an Emmy Gift Bag to benefit their charity after the Emmy's.
WATCH LIVE!
On Fox Live, September 22nd 8ET | 5PT, 2019. Watch the Emmy's live and see who will take home the iconic awards.
SHOP THE POST