Dawes Custom Cosmetics is Leaping Bunny Certified
We Are Excited to Announce That Dawes Custom Cosmetics is now certified with Leaping Bunny
What does this mean?
The Leaping Bunny certification was important to Eve Dawes for Dawes Custom Cosmetics to show her support of cruelty-free products and crafting products with compassion so consumers can shop with peace of mind. The Leaping Bunny Logo is ranked as the top third-party claim for personal care products for supporting a price premium, influencing purchasing decisions, and positively impacting the brand.
It also means Dawes Custom Cosmetics will now appear in the online version of the Compassionate Shopping Guide found at LeapingBunny.org as well as in their smartphone app and the next print run of the paper Compassionate Shopping Guide.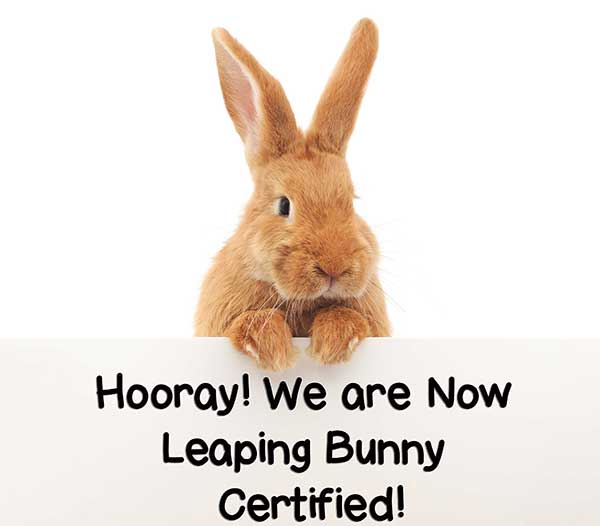 What Can You Do?
Leaping Bunny's 10 ways to get started:
https://www.leapingbunny.org/take-action/checklist
You can also pledge to go cruelty-free:
https://www.leapingbunny.org/take-action/pledge
Why Go Cruelty-Free?
Animal testing is unbelievably still a problem when it's completely avoidable, unfortunately it's often the designer name brands that are the culprits! Cruelty Free International says that over 115 million animals are being used for animal testing worldwide.
The easiest way to say no to animal testing is to switch to cruelty-free products and brands.
Animals used in experiments are confined to tiny cages, inhumane conditions, and tortured, maimed and killed with tests. There is no need to test on animals to test if they're safe for humans; there are many alternatives such as in vitro testing, cultured cell tissues, and computer models. Companies can choose from an extensive list of ingredients already proven to be safe where there is no need to further test.
Lab animals such as rabbits, dogs, cats don't have the same rights as pets!!! How can this be? Shouldn't they be afforded the same rights as our fur babies? We think so!
Stats: In 2013, 67,772 dogs and 24,221 cats were used in animal testing in the United States alone that year. Cruelty Free Kitty.
Support cruelty-free companies such as Dawes Custom Cosmetics instead of the ones who choose to test on animals. If you stop giving your business to those that test on animals, we can encourage those companies to go cruelty-free to by showing that consumers care.
With so many cruelty-free brands available there's really no reason not to shop cruelty-free while still getting the best products. The EU, Israel, India, Norway, Switzerland, South Korea, and New Zealand have all banned animal testing. We need to encourage more governments to ban this unethical and inhumane act.
Many cruelty-free companies are more conscientious in general. Offering healthier, more natural, non-toxic products. Dawes Custom Cosmetics is talc-free, paraben-free, sulphate-free, gluten-free, and all-natural. Our skin absorbs everything! You pay attention to what you put in your body, but you also need to pay attention to what you put on it as it will end up in it.
It's easy to forget about looking for cruelty-free products when it seems so antiquated but it's truly as bad as it sounds. Lets choose to shop conscientiously and put an end to animal testing. You may wonder what 1 person can do by choosing cruelty-free? What if everyone thought like that.
"If we could change ourselves, the tendencies in the world would also change. As a man changes his own nature, so does the attitude of the world change towards him. ... We need not wait to see what others do." Gandhi
I promise YOU have the power to make a positive impact on animals and the way cosmetics are formulated across the world.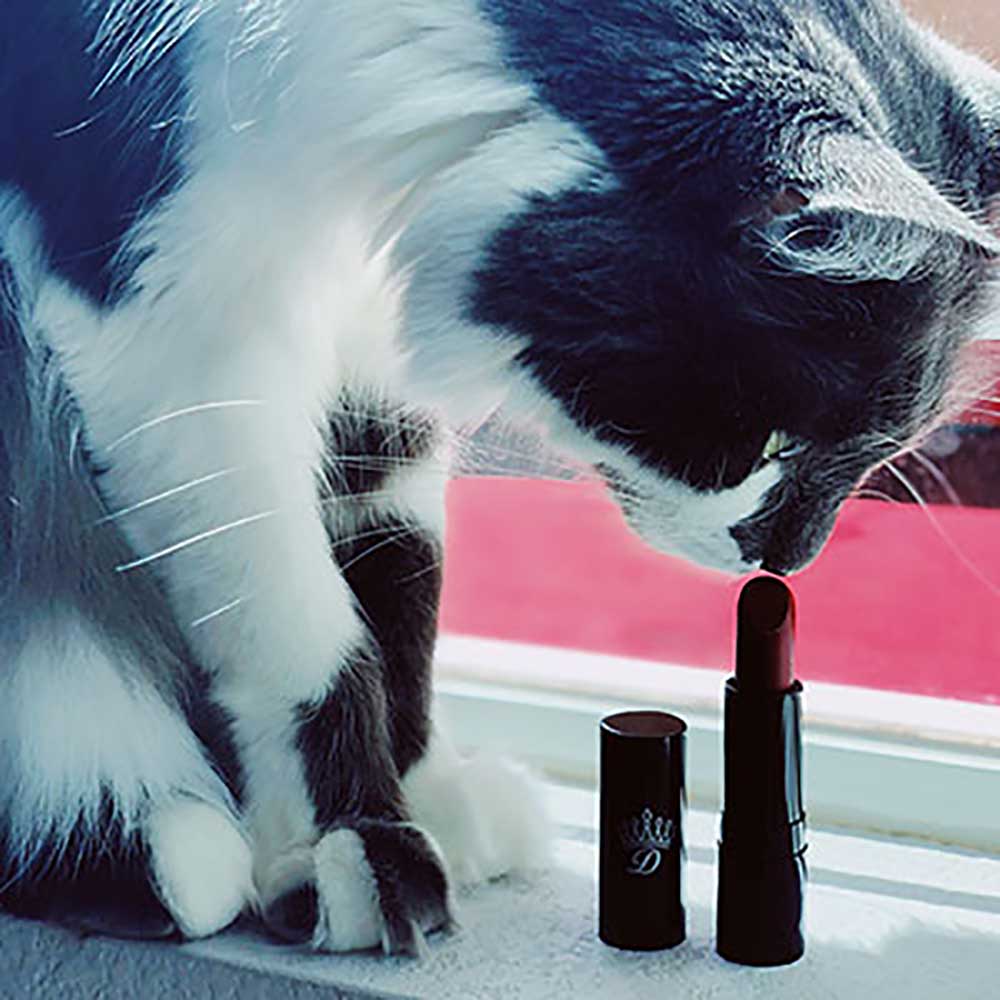 Dawes Cosmetics For A Cause
Shop Sweetie Organic Vegan red lipstick $35 Named after the beautiful Instagram star 'Sweetie The Capybara' and created with her Mom Emily, this lipstick supports cruelty-free living with 20% of proceeds going to Leaping Bunny. This beautiful deep ruby red jewel toned lipstick is made with an all-natural, moisturizing base, vitamin E and SPF to nourish your lips.
With an all-natural carrot cake flavor and vanilla scent, this is a calorie-free sweet treat you'll fall in love with while shopping for a cause. Moisturizing, gentle, and highly pigmented for non-drying, long-lasting color. Made and sold exclusively by Dawes Custom Cosmetics.
MUST USE CODE BUNNYLOVE AT CHECKOUT FOR 20% TO BE DONATED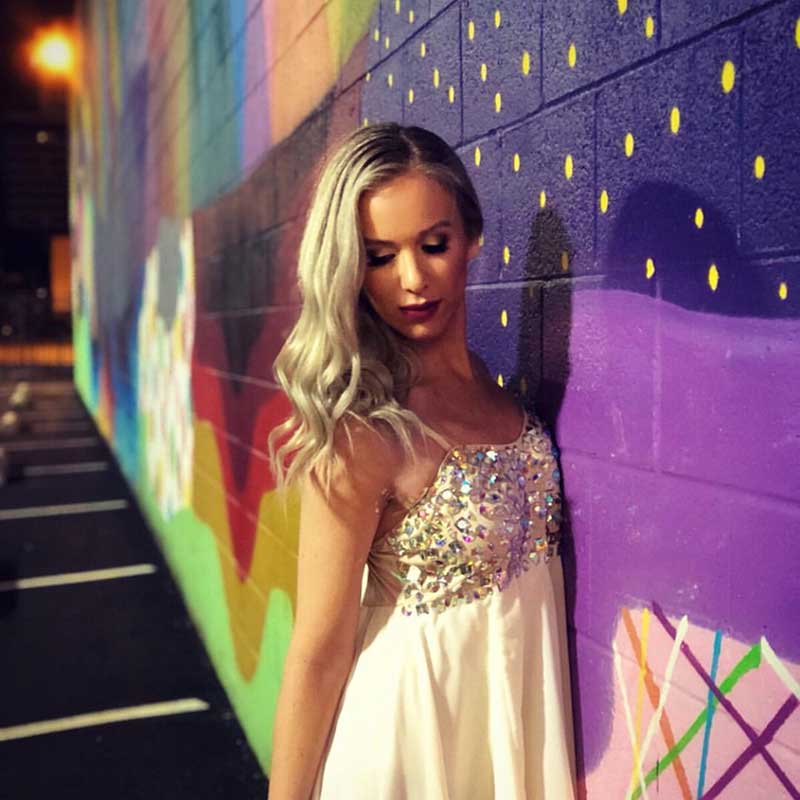 Model: Emily Slayter. Photographer: Quintin Kolt & Graphix1st